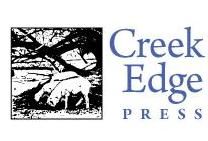 I am a big fan of independent learning. Any curriculum that spurs a child to find answers to their own questions and guides them to see that they can (and should!) learn things for themselves is going to be high up on my list of favorites.
Creek Edge Press
is just this kind of educational resource.
The history product I received from
Creek Edge Press
(free of charge for review purposes; opinions shared are my own) is titled "
Early Modern World Task Cards" by Amy K. Hilsman.
This set covers Elizabethan England through the Civil War, and is recommended for ages K-8. Included are a softcover book and a set of cards. The book contains a course introduction that explains how the task cards are meant to work. And the book itself is the teacher's manual - although there isn't a lot of lesson planning or formal teaching going on with this terrific history tool, since the aim is for students to become independent learners.
The task cards are printed on heavy duty stock card and each card has a series of topics related to the particular subject chosen from
Creek Edge Press's
selection. The cards are designed to be used at a rate of one per week, and each car is numbered so they are easy to put back in order.The child simply works their way through the topics listed on the task card, using resources such as the Internet, library books, encyclopedias, etc. While
Creek Edge Press
is a relatively new company, they already offer a nice variety of topics, all of which are used in a similar fashion. Combining the Montessori, Classical and Charlotte Mason philosophies,
Creek Edge Press
has created a product unique within the homeshcool world.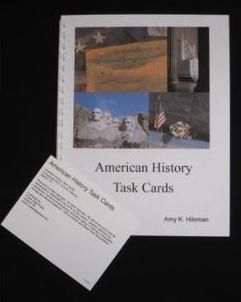 Basically, you as the homeschool parent should plan to facilitate the student's work for the first couple of weeks and thereafter the student can use the task cards to learn about the topics listed on their own. Assessment is done by looking for ever-increasing detail and neatness in the child's work. Specific answers are not the end goal of this teaching tool. Rather, it is to engage the student with the material. The learning accomplished with this method will "stick" with the child, and I believe they value what they mined on their own as compared to being spoon fed from a dry history textbook.
Some students may need to be tutored as to self-directed learning while others will immediately thrive under these assignments. Be sure to take time working through this process with your child, at least to be sure they know where and how to find answers to the topics found on the task cards. And realize that some learners do not feel comfortable without a set of questions to answer when studying history. If this is the case, tweak the program to meet your family's needs. For example, you could have the child make a list of questions as they read about a specific person or era, and they could answer the questions later on. If two of your children were to work through this curriculum together, one could write the questions and the other could answer ~ then they could switch roles with the next task card. Over time, most children grow to enjoy open-ended and self-directed learning.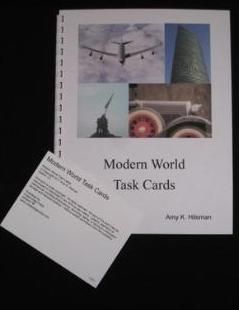 Using the encyclodpedia for research, additional reading, defining terms, copywork, sketching, labeling artwork, creating summaries, posters, collages, display boards, time lines, and much more, your children will grow in their confidence as they research and discover all sorts of things for themselves. Taking ownership of their learning is a tool they will use daily in their adult life.
To visit the
Creek Edge Press
website, go to
www.CreekEdgePress.com
Some of their other products include
Geography Task Card
sets,
Science Task Card
sets,
Fine Arts Task Card
sets, and
Grammar Task Card
sets.
History and Geography
prices range from $18-$20 per set (with the option to purchase the entire line for $90).
Science
prices are $18 per set (or $65 for all Science sets).
Fine Arts
include
Music & Composers
or
Art & Artists
for $32 each. They also have
Grammar Task Card
sets available for $18. As non-consumable items, you can use these sets over and over again, which makes them an excellent value.
The set I received (
Early Modern History
) sells for $20 (item # EW).
To read what other Crew members have to say about
Creek Edge Press
, click
HERE
.
Overall, I would say this product has been a welcome addition to our homeschool. The product line is so simple and so ingenious, I cannot emphasize how much I really like it. This is a new, long-term favorite for me. My kids like it ~ they're learning and honing their research skills, and it's a breeze to implement for multi-age teaching. Great product, great price, great end result.
Lord bless you and your family today!
Day 161 done :)
Jan L. Burt
www.HomeschoolingMothersBibleStudy.com
www.SavanasClayCreations.com