The Art of Argument ~ An Introduction to the Informal Fallacies
(
from Classical Academic Press, written by Aaron Larsen, and Joelle Hodge with Christ Perrin)
is the first in a three-part series of logic curriculum that began in 2003.
The Art of Argument
teaches 28 common logical fallacies, which are simply examples of reasoning gone wrong.
The Art of Argument
set I received (free of charge for review purposes, opinions expressed are solely my own) included the
Student Book
(230 pages), the
Teacher's Edition
(286 pages), and a DVD with an introduction and 6 lessons.
The curriculum itself is great, but the DVD lessons are the icing on the cake. They bring the topics to life and clarify the purpose of a logic curriculum. The student isn't "alone" as they work to understand the different types of arguments. We used the book first and then viewed the DVD lessons - but that's my personal preference. You could potentially gain more by watching the DVD prior to doing the book work. (Maybe I'm one of those mean homeschool moms who makes her kids dig out the hard truths from the reading before they get any "clues" from the DVD!)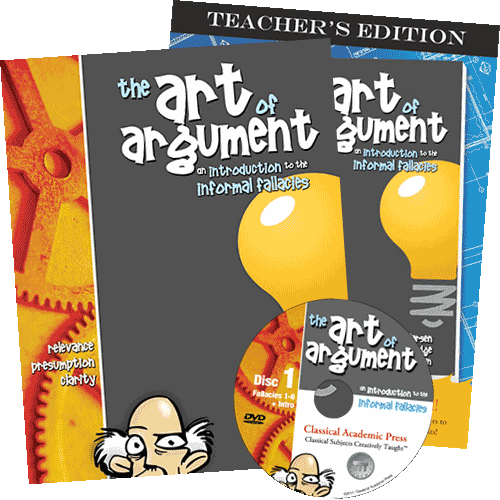 The subject matter broached in the lessons are filled with real-world applications that touch on today's issues, lest you think logic is only to be studied alongside Latin and Greek. Having the ability to argue logically, rather than emotionally, is not an art everyone has learned. Our children are growing up in a media-laden society, and the odds are that constant bombardment of thoughts, ideas, influence, and marketing will only increase in the coming years. The value I see in
The Art of Argument
lies in it's ability to open my children's eyes to fallacies that abound in our media-driven society. Training them to logically resist the "push" from the world will benefit them over the long term.
My daughters dove into
The Art of Argument
feet first and began learning how to (properly) argue from day one. In their discussions around the dinner table, they have been analyzing arguments and discussing what they've each learned. And having four daughters who know the correct way to argue makes for some entertaining meal time discussion!
The Art of Argument
book sells for $21.95, and
The Art of Argument Teacher's Guide
sells for $24.95.
Other books in the series include
The Argument Builder
and
The Discovery of Deduction
.
Classical Academic Press
also offers Latin, Bible, and Poetry and has French, Debate, Classical Writing, History, Spanish and Latin 2 in production.
They also have a free website available to practice Latin, Spanish, Greek, Logic, and more - visit
www.HeadventureLand.com
To see what the other TOS Crew members have to share about
The Art of Argument
, click
HERE
.
To learn more about
Classical Academic Press
, or to purchase
The Art of Argument
, go to
www.ClassicalAcademicPress.com
Day 164 done :)
Jan L. Burt
www.SavanasClayCreations.com
www.HomeschoolingMothersBibleStudy.com